ANTASIA Beach Club:
Thanos Hotels and Resorts was awarded "Best Concept"
at the Cyprus Eating Awards 2021
ANTASIA Beach Club has won "Best Restaurant Concept" at the Cyprus Eating Awards 2021, the island's distinguished culinary event, which highlights and rewards the best venues for the past 17 years.
Upon receiving the award, the manager of ANTASIA, Mr. Veliko Velikov, thanked the organizers and the public for the distinction, commenting that this wonderful recognition motivates the entire team at the Club to continue to aim high in their offering, as they continue in striving to provide their clientele with exceptional quality service.
ANTASIA Beach Club opened its doors last June, on one of the most beautiful sandy beaches of Kato Paphos - within walking distance of Almyra and Annabelle hotels. Within just a short period of time, it managed to attract epicureans of all ages and became an unmissable foodie destination, famed for its unique architecture, intricate design and refined atmosphere.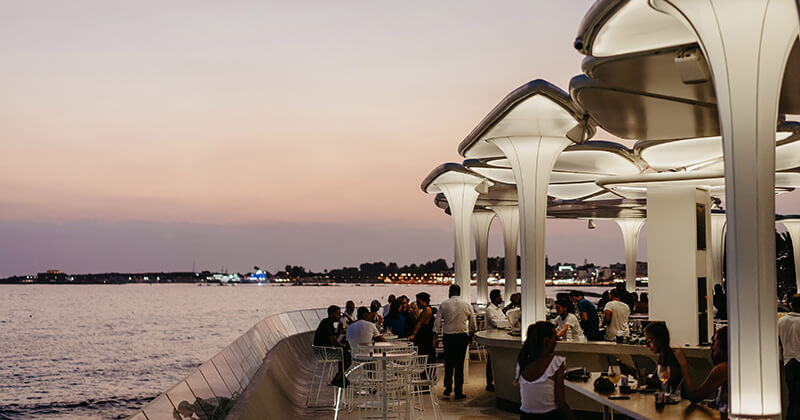 Innovative architecture and aesthetics
The restaurant's architectural design was conceived by the talented Cypriot architects at Psomas Studio of Architecture PS-A, who created an innovative building with minimalist features, flawlessly blending in with the surrounding natural environment. The interiors were designed by pioneering designers Baranowitz & Kronenberg Architecture from Israel, whose portfolio includes the world-famous "W" hotels in Ibiza, Amsterdam, and Prague.
Asian and Mediterranean flavors
The menu at ANTASIA Beach Club has been helmed and specially curated by Hungarian chef, Akos Richweisz, under the supervision of the award-winning David Goodridge, Executive Chef of Thanos Hotels Group. The philosophy of the menu effortlessly showcases sublime Asian and Mediterranean flavors, incorporating fusions of different ingredients, herbs, and spices in each dish, making for an unmissable fine dining experience on the charming Cypriot coastline.
ANTASIA offers unique experiences from morning till late catering for to guests who wish to experience moments of excitement and to those who simply want to unwine and relax on the beach.
***

Antasia Beach Club is open from 9am to 11pm

For more information and menus see Antasia Restaurant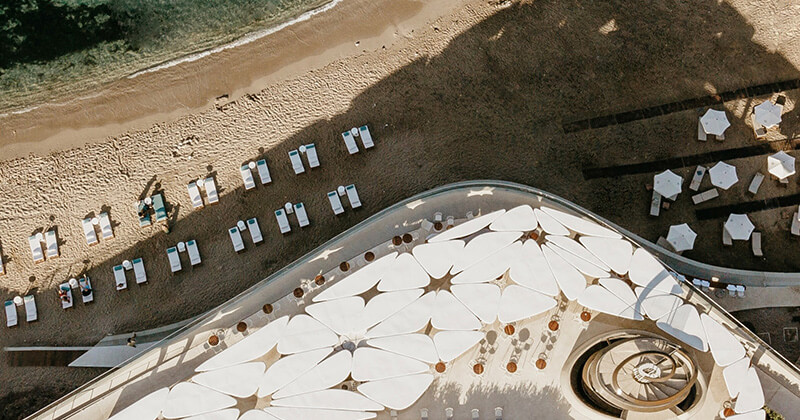 About Antasia Beach Club
Just a short stroll from the iconic Almyra and Annabelle hotels, Antasia Beach Club is located on one of the island's most beautiful beaches, Kato Paphos. The club combines extraordinary architecture with a laid-back, sophisticated day-to-night vibe and welcomes guests of all ages, locals and hotel residents alike. The latest venture from family-owned Thanos Hotels & Resorts offers delicious all-day dining and drinking, with rustic wooden daybeds and the Mediterranean ocean lapping at guests feet. Seamlessly blending indoor and outdoor living, the club has been designed by Cypriot architect studio Psomas, alongside interiors by Baranowitz & Kronenberg Architecture. The sleek, minimalist design boasts a neutral colour palette that complements the raw coastal surroundings and custom-made furniture manufactured in Cyprus. An impressive spiral staircase that leads upwards to an expansive terrace with views over Paphos Castle is a defining feature. The food menu has been created by Chef Akos Richweisz under the supervision of award-winning David Goodridge and combines delicious locally-sourced ingredients with an Asian flair. Dishes aredrawn from a range of exotic influences; from a Spicy Cashew Nam Prik dip, Shrimp Burger With Papaya And Mango to freshly-rolled maki, sushi and sashimi and vegan additions such as Marinated Tofu Salad with Wakame and Ponzu.